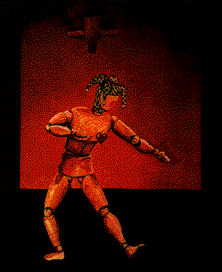 Tabitha's Secret is a five piece, Orlando, Florida based band. The music is a jangly, flowing brand of mellow alternative rock crafted by members Rob Thomas (voice), Brian Yale (bass), Jay Stanley (guitar), John Goff (guitar), and Paul Doucette (drums). Thomas' perceptive lyrics and outstanding vocal quality transmit a mood and sincerity that moves the listener. Yale, Stanley and Goff boast formal music and engineering educations. It is this expertise that helped a very young band emerge from the studio with an extremely developed sound. The early demo accurately displays the subtle textures and depth of their music and lyrics.
---
In one short year Tabitha's Secret has accomplished a lot. The band played out vigorously and built a huge fanbase in every market they've worked in. Tabitha's Secret has played with Hootie & The Blowfish, Mary Karlzen, Ween, Letters To Cleo and several other national acts. They released a self titled debut that garnered considerable airplay on Orlando's modern rock station, WJRR. The singles "3 AM" and "Forever December" repeatedly made it into the top 10 most requested songs. The reaction at retail was strong. Over 2500 units sold in Orlando last year. Tabitha's Secret was recently named "Best Alternative Band in Florida" by Jam Magazine (they were also nominated for the Best Male Vocalist, Best New Band, Best Original Band and Entertainer of the Year awards!)
---
Audiences throughout the southeast will experience Tabitha's Secret live when the band expands its touring this summer. Tabitha's Secret has been approached by producer Matt Serletic (Collective Soul). Serletic has indicated an interest in producing the band's next project. The next release will have distribution, radio promotion and publicity. The band's music has massive crossover potential at radio (AAA, AOR, Modern Rock, CHR, AC). Look for a new release by fall.
---
SAMPLE SOME MUSIC
All exceprts are in .WAV format
---
You can also check out What's up with the band, scan through the list of upcoming shows, email the band directly and read some quotes from people who are in on the secret.
Contact Info :
Address:
Tabitha's Secret
P.O. Box #915633
Longwood, FL 32791-5633
(407) 682-xxxx
Email:
Management :
Kevin O'Malley
O'Malley Artist Management
160 West Evergreen Ave., Ste. 120
Longwood, Fl. 32750
(407) 339-xxxx
Legal :
Al Schlesinger Esq.
6255 Sunset Blvd.
Los Angeles , Ca. 90028
( 213 ) 462-xxxx
( 213 ) 464-xxxx Fax.
Cellar Door Entertainment
Christopher Tanner
Entertainment Consultant
Washington, D.C.
329 S. Patrick Street
Alexandria, VA 22314
(703) 683-xxxx Fax (703) 549-xxxx
1-800-xxx-xxxx
Tabitha's Secret Pages
Design and coding by the Radiation Group
(graphics adapted from original album artwork by Perry Souza)
Contact Tabitha's Secret at