What People Are Saying About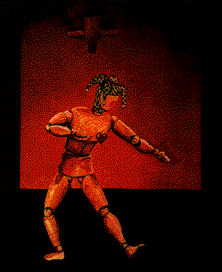 "Tabitha's Secret has received extensive airplay on WJRR, the #1 Rock station in Orlando, because of their obvious talent and excellent songs. We have booked Tabitha's Secret for our events and continue to do so based on their draw and total professionalism. Their original material always gets the crowd going and fits right in with our cutting edge, new music image. Tabitha's Secret has my highest personal and professional recommendation."

Steve Robertson, APD/MD WJRR, October 4, 1994

"...a softer, alternative pop/rock band that stands out among the grunge, metal, and funk so prevalent in the local scene...Thomas is a charismatic vocalist with...a knack for penning expressive lyrics...The fan base continues to grow as the band plays a steady schedule of shows in the Orlando area, including some high-profile opening spots for national acts such as Deadeye Dick and Hootie & The Blowfish."

The Orlando Weekly November 16, 1994

Nominated for "best male vocals", "best new band", "best original band", "entertainer of the year"...voted "best alternative band"

1994 Florida Jammy Awards

As a radio DJ I am approached by many bands. Few get airplay, and even less make it past one spin. Tabitha's Secret not only gets played every week, but, people actually want to hear their music...Palatable to any ear."

David Marcello a.k.a. Surfer Dave XL106.7's Alternative Static

After a great response from the crowd at the Deadeye Dick show Sept. 16th at J.J. Whispers, local guys Tabitha's Secret could do nothing but celebrate. Their 45-minute opening set rocked the house and made them some new friends- many of whom came only to hear Dick play "New Age Girl"."

The Orlando Weekly October 6, 1994
---
Back to Tabitha's Secret
Tabitha's Secret Pages
Design and coding by the Radiation Group
(graphics adapted from original album artwork by Perry Souza)
Contact Tabitha's Secret at